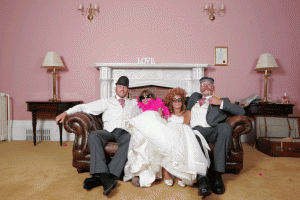 The Photosofa is a great way to make a unique record of a special occasion. Weddings, Birthdays, Garden partys whatever the occasion the Photosofa provides a fun event with a book as a permenant record for years to come. The Photosofa  concept has been developed  from an idea I had after seeing an exhibit in the Berlin Museum dedicated to the fashion photographer Helmut Newton  which was a "machine " used to enable fashion models to take their own photographs.   Although it set  out  as a joke Newton found the results just as good (if not better) than a directed photopshoot. I have adapted this concept and combined it with written messages to to produce a unique way of recording a special day or event.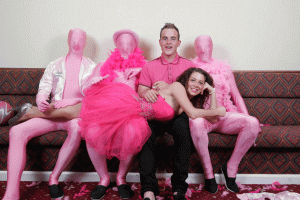 In simple terms, a portable studio is created at a suitable location and all the technical adjustments, lighting and safety implications are dealt with. The participants are provided with a radio control device to trigger the camera. They then effectively take their own picture and are able to view it on a computer screen and re-take as required until they are happy with the final output.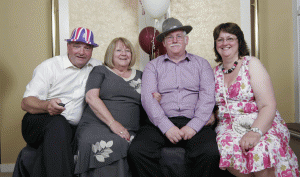 It is important that I encourage and do not direct the participants to come up with their own ideas and to execute them themselves.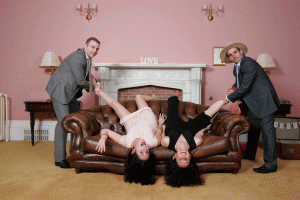 Examples of previous photosofa books  encourage participants to think of ways in which they could portray themselves in a variety of styles. They then interact with the surroundings, and any props that have been provided, and take their own picture using a radio control. They have the opportunity to discuss the pictures as they appear on the screen and re-take as necessary.